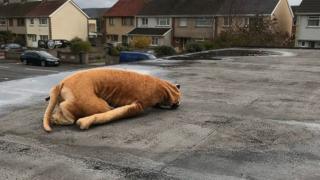 A "lifeless canine" on a church roof turned out to be a gentle toy.
A involved passer-by noticed the limp object on prime of the Elim Pentecostal Church in Port Talbot and referred to as the RSPCA.
Inspector Nigel Duguid feared the more serious when he arrived on the scene, however dread turned to reduction when he realised it was truly a stuffed animal.
Mr Duguid, who has labored for the RSCPA for 37 years, mentioned: "I have to admit it was such a reduction".
He mentioned he was braced for a "an especially distressing and tough job" till he noticed the lifelike plaything.
"From a distance it was tough to see what was on the roof," he mentioned.
"It's good to know that there are folks on the market who're looking for animals, as our caller had no concept that it wasn't an actual canine."